WELCOME ABOARD
THIS IS THE HOMEPAGE WEBSITE OF USS FDR CV 42 REUNION, INC.
ATTACK AIRCRAFT CARRIER 1945-1977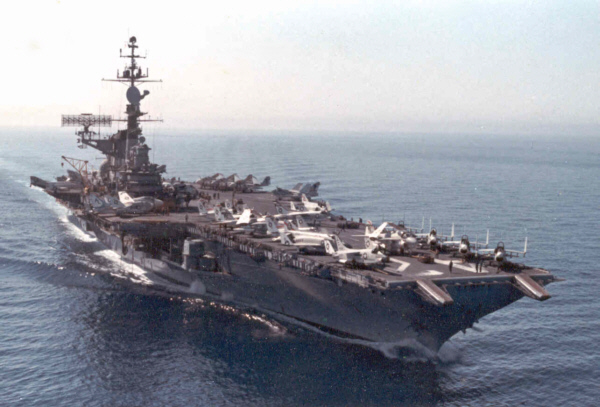 2019 Spring Newsletter READ
Latest News
CLICK HERE to see photos from the mid-Fl mini-Reunion
CLICK HERE for all the latest info on the upcoming 3 Sisters Reunion in San Diego
Len Gaffga explains how to fly military space available Click Here to read or Here to view the video
Latest news from Bob:
Shipmates:
A few things to pass along:
1. Registration for the Midway Class i.e. "Three Sisters" Reunion is due no later than April 8. If you register after that, you may not be able to participate in your choice of events, tours etc. INCLUDING THE BANQUET. The committee has to turn in a head count for the banquet and the number of late registrations and "walk ins" will be limited. Strongly recommend you go ahead and register with AFR.
(NOTE: This is separate from your hotel reservations)
2. Midway Class Reunion Commemorative Jacket, Hat and Patch
As you may recall, the President of the Coral Sea Veterans Association designed a jacket, hat and patch to commemorate this once in a lifetime event.
Photos of this package appear on our website (http://www.ussfdrcv42reunion.com/3-sisters-merchandise.html ) at the bottom of the page.
SHipmate Bill Solt ordered the jacket but was disappointed in that there are no significant spaces in our ship's name.
So heads up! If you are interested in the jacket; please check the photo of the embroidery and take note of of how "FranklinD.Roosevelt" is not spaced. This is not to discourage you from purchasing but some find they don't care for the way it appears.
3. Renewals
Renewals are running behind this year and it may be partly my fault for dropping the ball with the Winter 2018 Reunion Reader email. I recently sent it out - I thought for the second time. But when I went back and checked my sent emails, I had neglected to fill in the addresses in the BCC area. So I sent it to myself and no one else! Sorry about that.
If you are not sure when your due date is, you can check with Steve Dukes (treasurer@ussfdrcv42reunion.com) and he can tell you by checking the master list.
4. MCR19 Roommate
We have a new shipmate, Luis Avila, who wants to attend the Midway Class Reunion but needs to share a room. If you are willing to share your room, let me know and I'll pass along his phone number.
5. Mayport Memorial SITREP
The FDR Memorial at Mayport Naval Station has some serious problems. Mostly, the plaques that came off the ship that commemorates Commanding Officers and Embarked Flags has rusted and deteriorated pretty bad. Brian Ryan and I will be travelling to Mayport tomorrow to meet with the Command's representatives and the folks who fabricated and installed the original memorial. My hope is we will come away with a plan of action to get the memorial back up to 4.0 condition and establish an annual maintenance program with the monument company to keep it is good condition forever.
The funds are already in place, so that should not be an issue.
I'll keep you posted.
That's all for now.
Hope this finds you well!
Keep in touch and let us know how we can do things better.
Bob
FDR@indyblue.com
317 289-8489
All of the FDR's Flag Officiers are now listed on FDR Stats and History tab at the top.
Credit card scams discovered by George Thumudo READ (please note when you click on read it will download the story; click the downloaded file to read)
Paul Ghysels has share a video of a final tribute to Rosie which he found on vimeo.com Check it out HERE
47 year old note discovered in bottle anyone know Bob Klein ? Read the Note
Bob served in VA-215 in 1970; does anyone rember him?
New Orleans T-shirts for sale; don't miss out!
3 Large and 2 size XL $15.00 each /incl S/H
If interested please contact Bob FDR@indyblue.com
Two new "tabs" at the top of the page. "The Legal Stuff" which has Minutes, By-Laws, and 2017 Treasurer's Report. "Computer Corner" has useful information many may find helpful. I've also rearranged the Reunion Photos by year which makes them easier to navigate.
Two of our shipmates have been kind enough to share stories of their adventures while aboard Rosie.
Len Gaffga's Stories are HERE and our newest member Skip Moyer has sent us a story HERE
THE 2018 REUNION HAS CONCLUDED: CLICK "REUNION PHOTOS" TAB AT TOP OF THIS PAGE TO VIEW THE PICTURES
"What a wonderful week at the FDR Reunion in New Orleans!
Made new friends, saw many old friends, did some neat stuff, saw some great sights. Shipmates share a bond that is like few others. A ship's crew works, fights, plays and lives together 24X7. You win as a crew or your ship goes down!
It's a bond like no other.
Now, 60+ years later, we're older and slower, but we're still shipmates!" Bob Siefker
WELCOME ABOARD TO OUR NEWEST MEMBERS
James Reardon Capt's & Ops Office 1970-1971 West Jefferson, OH
David Dukes (Wife Bonnie) B-Div 4A Fireroom 1975-77 Los Angles, CA
Daniel Haynes (Wife Elizabeth) CR-Div. 1967-1968 San Diego, CA
David Morningstar (Wife Martha) V-3 Div. 1976-77 Smithville, MO
Robert Hawkins B Division 1965-1967 Atoka, TN
Luis Avila Weapons Div 1972-1974 Virginia Beach, VA
Richard Arlington (Wife Joanna) OI Div 1960-63 Stuart, FL
Ron Despins (Wife Katy) CR Div 1970-73 Lincoln, NE
Daniel Walters (Wife Barbara) CR Div 1971-74 Liberty, MO
Joseph Farrell (Wife Nancy) MM3 Div 1966-68 Buffalo, NY
Charles McEvoy (Wife Marge) AIMD/IM3 1971-74 Clinton, CT
Robert Bost (Wife Virginia) G Div 1959-62 Clarksville, MD

NOT YET A MEMBER? JOIN US